Some information for seam welding high nickel chrome iron alloys is published by the American Welding Society in their Welding Standards. Examples of current values that can work are exhibited there.
AWS Standard C1.1:2019 "Recommended Practices for Resistance Welding"
In this standard all the pertinent weld schedule information to make an initial set up is provided. The data for nickel alloys is limited but is a good starting point.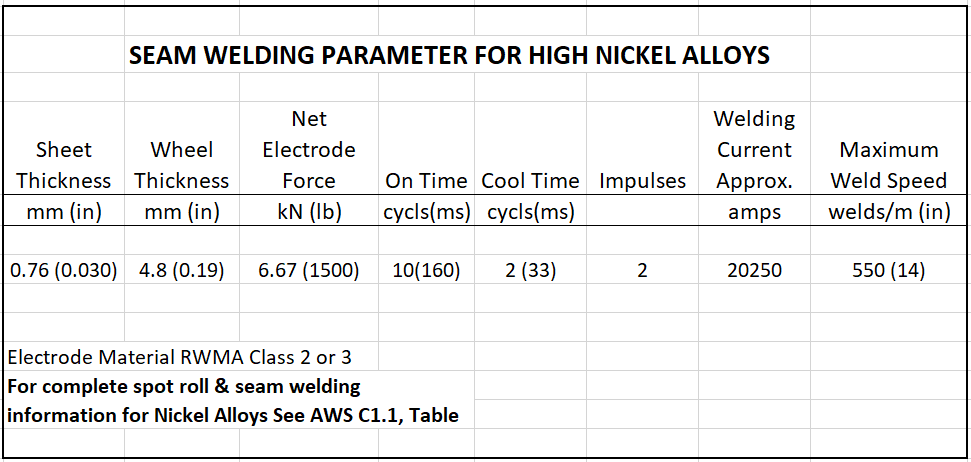 Remember to start at values less than those listed in order to approach the proper settings from the cold weld side and not send molten metal flying on the first trial. Every machine and quality standard is different. Your equipment will run best at values similar to these but not necessarily the same.
AWS has considerable data on spot, roll spot and seam welding nickel alloys for use as a starting point in the AWS C1.1 Standard.
Some of the other articles available in this blog on seam welding are:
WHAT IS THE PREFERRED PRACTICE TO DRESS SEAM WELD WHEELS WELDING ALUMINIZED OR COATED STEEL?
WHAT MATERIALS ARE USED FOR SEAM WELDING WHEELS?
CAN THE SEAM WELDING WHEELS BE THE SAME DIAMETER?
WHEN SEAM WELDING WITH ONE LARGE AND ONE SMALL DIAMETER WHEEL CAN THE WELD NUGGET FORM TOWARD ONE SIDE OR THE OTHER?
WHAT IS THE PROPER AMOUNT OF WATER COOLING FOR SEAM WELDING?
ARE DC and INVERTER CONTROLS USED IN SEAM WELDING?
WHAT CAUSES BURRS IN SEAM WELDING?
Reference: RWMA – Resistance Welding Manual 4th Edition
AWS Standard C1.1 Recommended Practices for Resistance Welding