This question brings out a very interesting situation. There are several sources for projection welding schedules published, some in industrial standards and literature. Considering that nuts and bolt welding make up such a large percentage of projection welding it would seem that standards might be available. However, I am not aware of a standard for nut and bolt projection welding. Due to the multitude of nut and bolt designs the users and standards people have not been able to collect the necessary data to form a consensus and develop a standard for nut and bolt projection welding.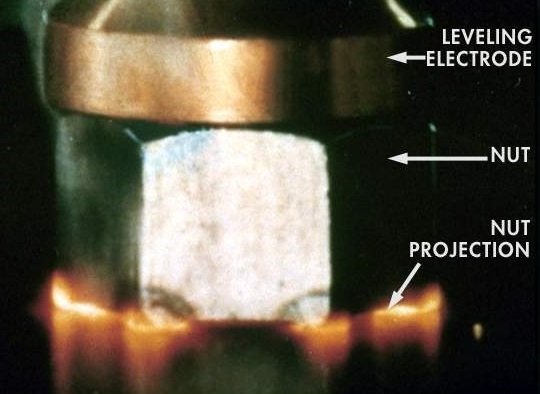 Weld Nut Being Welded
At this time I would recommend:
AWS Standard C1.1 Recommended Practices for Resistance Welding
This standard does have many projection welding schedules on various materials, which certainly can be used as a guide to develop a schedule for nut or bolt welding applications.
Another source would be to contact the nut and bolt manufacturers. Many have basic weld schedules available to projection welding their products.
Reference:
AWS Standard C1.1 Recommended Practices for Resistance Welding
RWMA Manual Section 3