This question comes up frequently. Many look for a formula to set the squeeze and hold time for resistance welding.
Several articles have been written on this subject in this blog:
HOW DO YOU SET THE PROPERSQUEEZE TIME IN A RESISTANCE WEDING SCHEDULE?
IS THERE A FORMULA TO DETERMINE THE SQUEEZE TIME IN RESISTANCE WELDING?
IS SQUEEZE TIME IMPORTANT?
HOW WILL HOLD TIME CHANGE THE RESISTANCE WELD STRENGTH?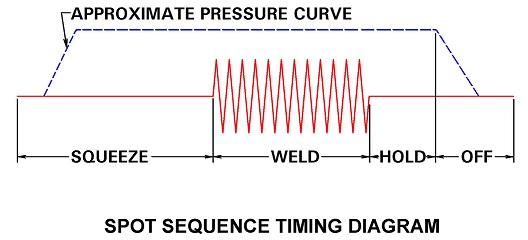 The answer is there is no formula for squeeze or hold time. Squeeze time is meant to close the electrodes on the part. Every machine does this at a different speed due to part configuration the equipment and distance to travel. Hold times are dictated by similar variations beyond control. The only fact is that a good weld requires bothsqueeze and hold time to function properly and produce a good strong weld nugget.
Proper squeeze ensures the part is held tightly with the proper force to contain the weld and prevent expulsion during the weld cycle. Hold cools the weld under force ensuring the nugget solidifies properly under pressure to minimize voids and maximizes strength. Any compromise on the time of these two functions risks the proper nugget generation and formation.
The proper time for each has to be developed for each application and machine. There are pressure monitors that can detect when force has been reached or not and tell the control to proceed to weld in place of a fixed squeeze. Some machines are so slow that 10 cycles of hold results in 20 cycles before it opens. Each application dictates its own values.
The front office wants faster weld schedules. The front office wants no rework. No squeeze and no hold is faster but will generate more rework. There is a happy medium
A formula does not apply.
Reference: RWMA – Resistance Welding Manual 4th Edition