Everyone looks for a formula to set squeeze, weld, hold and off, but it basically does not exist. Equipment varies with different impedances, conductors, electrodes and tooling. Several articles have been written on this subject in the blog:
"HOW DO YOU SET THE PROPERS QUEEZE TIME IN A RESISTANCE WEDING SCHEDULE?"
"IS THERE A FORMULA TO DETERMINE THE SQUEEZE TIME IN RESISTANCE WELDING?"
"IS SQUEEZE TIME IMPORTANT?"
"HOW WILL HOLD TIME CHANGE THE RESISTANCE WELD STRENGTH?"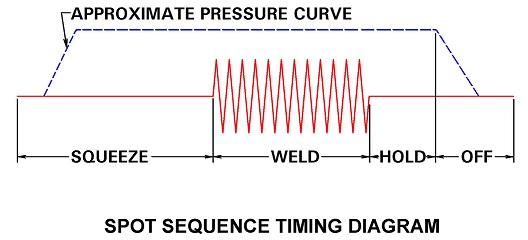 Squeeze time is meant to close the electrodes on the part. Every machine does this at a different speed due to part configuration the equipment and distance of travel. Hold times are dictated by similar variations beyond ones control. The only fact is that a good weld requires both squeeze and hold time to function properly and produce a good strong weld nugget.
Proper squeeze ensures the part is held tightly with the proper force to contain the weld and prevent expulsion during the weld cycle. Hold cools the weld under force ensuring the nugget solidifies properly under pressure to minimize voids and maximizes strength. Any compromise on the time of these two functions risks the proper nugget generation and formation.
Current heats the part and force contains the molten nugget and forges the nugget as it cools. Very important functions in getting good strong welds.
The proper time for all of these settings has to be developed by trial and error. This trial and error can be based upon proven weld schedules found in the literature listed below. Many materials are covered and a weld schedule similar to what you need should be available to use as a starting point.
The proper time has to be developed for each application and machine. There are pressure monitors that can detect when the desired force has been reached or not and tell the control to proceed to weld, in place of a fixed squeeze time. Some machines are so slow that 10 cycles of hold may result in 20 cycles before it opens. Each application dictates its own values.
A formula does not apply.
Reference: RWMA – Resistance Welding Manual 4th Edition
AWS Standard C1.1 Recommended Practices for Resistance Welding
CMW Resistance Welding Products Catalog
Tuffaloy Resistance Welding Products Catalog