Other articles in this blog describe:
WHAT IS UPSLOPE IN RESISTANCE WELDING?
IS UPSLOPE HELPFUL IN REDUCING SPATTER OR EXPULSION IN RESISTANCE WELDING?
To summarize here what these articles contain, upslope is used to slowly heat up the part as the heat initiates before full current application. This give the parts a chance to realign, relax/anneal, adjust position, melt coatings and contaminants and improve the part to part contact before full current is initiated. The end goal is for better contact and less expulsion.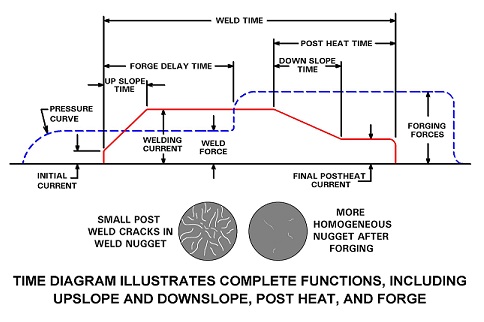 Upslope is shown in the first section of the red current line - as it increases. This period is often used on galvanized materials to allow the zinc to melt and be pushed out of the joint. In other cases it is a chance for the components to anneal or relax and get all material into full contact before full power is applied.
Reference: RWMA – Resistance Welding Manual 4th Edition