There are many variables in nut welding that can change. In your inquiry it was stated that the material and weld nuts were the same. Are they?
Is this coated material? Is the coating the same everywhere all of the time? Is the material clean or oxidized consistently?
Projection weld nuts are known to have variable projections in size, shape and height.
Does the nut feed onto the locating pin properly or hang up once in a while?
Is the locating pin properly insulated? Has the insulation worn? Is current shunting through the pin?
Is the weld cylinder hesitating/hanging up and not moving fast enough? Fast follow up for cylinders or servos is imperative for weld strength.
Is the tooling aligned properly for even touch down of all equal projections?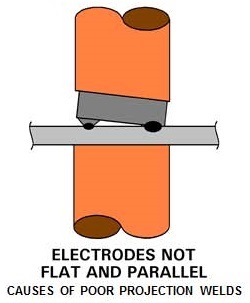 Projections missing or wrong size will cause the same problem as above.
Have any shunts or cables begun to wear or insulation worn? Worn cables and shunts will definitely change the weld results.
I have pointed out many variables that obviously can affect the projection nut welding process when all appears to be running normally. Any or all can or will cause havoc with push off tests.
More in-depth discussions of these topics are available in other articles in this blog:
"WILL UNEQUAL SHAPE PROJECTION CAUSE ISSUES IN PROJECTION WELDING?"
"WHAT IS FOLLOW UP IN PROJECTION WELDING?"
"HOW DOES ALIGNMENT AFFECT PROJECTION WELDING?"
"WILL OVERSIZED PROJECTIONS CAUSE ISSUES IN PROJECTION WELDING?"
"WILL UNDERSIZED PROJECTIONS CAUSE ISSUES IN PROJECTION WELDING?"
"WHAT ARE THE DO'S AND DONT'S FOR PROJECTION WELDING?"
"WHY DO I HAVE INCONSISTANT RESULTS NUT WELDING ON GALVANIZED STEEL?"
References: RWMA – Resistance Welding Manual 4th Edition
AWS – AWS Standard C1.1 Recommended Practices for Resistance Welding
CMW Inc. Resistance Welding Products Catalog