To answer this question, we need to start by defining some words. The question asked appears to be describing extending "HOLD TIME". This is the time the electrodes remain on the parts exerting force while the part is cooling down.
The word "RETRACTION" is frequently used to describe a cylinder or servo function where the control asks the force device to only open partially to reduce the electrode travel time between welds. More welds can be performed in a short time.
For more information - In this BLOG See:
WHAT IS HOLD TIME IN RESISTANCE WELDING?
WHAT IS A RETRACTION FUNCTION?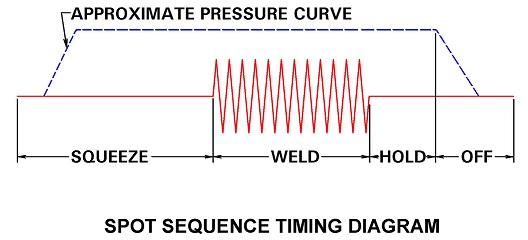 This question will be answered relative to HOLD TIME. If the electrodes are removed before the surface of the part has solidified, yes you can reduce sticking. Before you do - Think about that step. Removing that quickly means the electrodes are removed before the weld nugget has solidified and it would be expected to also not stick or be severely deficient in strength. Is that the goal? Hold time is imperative to ensure the weld solidifies under weld force. In some material systems tempering and or forging operations are built into the hold function to increase the weld strength.
See Blog article>
HOW WILL HOLD TIME CHANGE RESISTANCE WELD STRENGTH?
Electrode sticking to the part face is not caused by the length of hold time. It is caused by the amount of heat generated at the electrode contact face and for how long. Is coated material being welded? Is there good water cooling? Are the electrodes dressed per a proper schedule? Does your shop tend to run electrodes hot or cold? Is the schedule generating more heat at the surface than is needed? It makes a difference on life and sticking.
There are many materials, schedule, equipment and set up questions that are the prime factors in electrode sticking to address. Hold time is not one of those.
Reference: RWMA - Resistance Welding Manual 4th Edition