Copper, aluminum and steel wire and rod are frequently butt welded in industry in order to form large coils for drawing down from large gage diameters to smaller gages. This reduces handling and costs.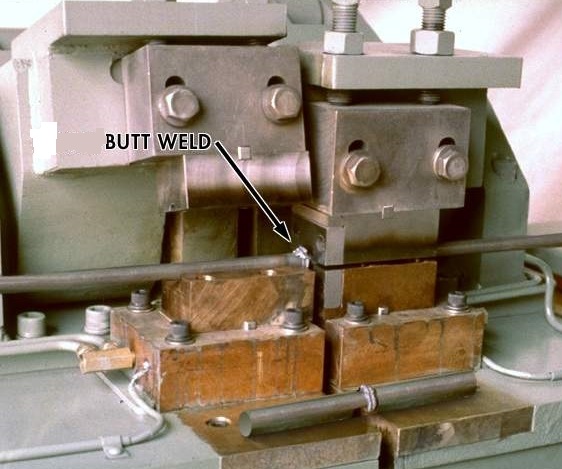 STEEL ROD BEING BUTT WELDED
The question is where can one find a butt weld schedule for this process? AWS C1.1 "Recommended Practices for Resistance Welding" lists one schedule. It is for Aluminum 1.6 mm Thick (0.063"). There is nothing readily available for rod or wire.
To solve this issue one must turn to trial and error.
To do this a controlled experiment will be set up with the parts on the butt welder to be used.
The first step is to Get the machine ready for operation. Maintenance may need to be performed on the equipment. Definitely the equipment condition needs to be evaluated. This evaluation can be performed by following the steps outlined in AWS J1.2 "Guide To Installation and Maintenance of Resistance Welding Machines".
When the machine is ready to operate then it is time to prepare samples for testing.
Prepare Samples *
Clean up the Butt Welder
Prepare tooling – Clean up and align properly
Make sure tool will grip the part properly
Set transformer tap, control/power supply to lowest settings
Adjust force – clamping force should be at least twice the forging force
Forging force will depend upon material being welded and its diameter?? and your machine capability.
Try a dry run without power??
What happened
Did the part slip? More clamping?
Too much forging force?
Adjust
At lowest power/ON run the first sample - What happened?
No weld ?
Adjust time or power or tap up modestly, try again
What Happened? No Weld
Repeat till a satisfactory butt weld is achieved.
THIS IS TRIAL AND ERROR – The secret to every successful process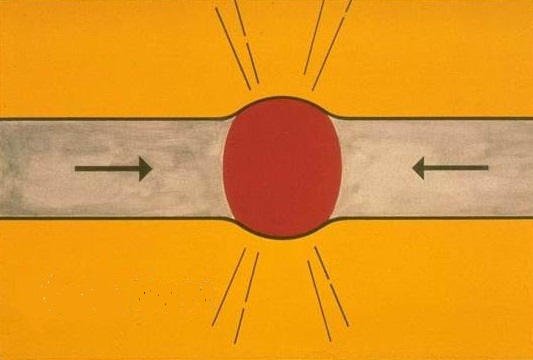 SCHEMATIC OF A BUTT WELD
With a good weld schedule that works record all of the variables on the weld schedule sheet take a photo of the set up and start production.
Reference: AWS C1.1 - Recommended Practices for Resistance Welding
AWS J1.2 - Guide to Installation and Maintenance of Resistance Welding Machines
RWMA – Resistance Welding Manual 4th Edition
*Important many machine set up steps were not have been listed here. This was meant to demonstrate the sample testing starting at low power settings and adjusting up to higher satisfactory levels.