Yes, there is a basic difference between the MFDC and AC transformers. MFDC transformers normally operate at 1000 Hz frequency and AC transformers operate at either 60 or 50 Hz depending upon location (N. America or Europe, etc).
The design of the two transformers is dramatically different. An MFDC transformer frequently is designed for 1000 Hz/650V input. While an AC transformers is frequently designed for 60 Hz/480v input. The significance here is that the transformer core required for the 1000 Hz unit is dramatically smaller than the core for the 60 Hz application. They are not interchangeable.
Note that the voltages are also different which also leads to differences in transformer design between the MFDC & AC.
The output of the MFDC transformer is DC not AC. There is a diode section in the MFDC transformer which converts the 1000 Hz AC input into a DC output.
An AC control cannot be used with an MFDC transformer. One must use an MFDC control with and MFDC transformer. This is demonstrated in the diagrams below:
The weld control is made up of two major areas, the first being the Bridge Rectifier where the three phase 60 Hz AC input (1) is rectified into a DC output(2). The second section is the inverter, or H=Bridge, which is a polarity reversing switch. This switch also operates at the desired increased frequency of 1000 Hz. In the H-Bridge the rectified DC input is converted back into a single phase AC square wave output at 1000 Hz frequency(3), as shown below.
This mid frequency AC is the input to the primary of the transformer. The diodes in the transformer then converts this AC back to DC (MFDC)(4) for welding in the secondary circuit.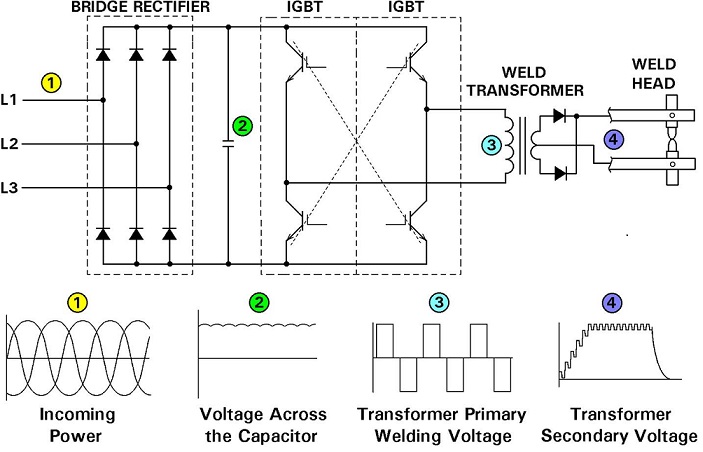 OTHER ARTICLES IN THIS BLOG ON THIS TOPIC ARE:
WHY or HOW DO MFDC CONTROLS CHANGE CURRENT FROM AC TO DC TO AC TO DC?
AN ARTICLE ON MFDC RISE AND DECAY IS ALSO AVAILABLE
Reference: ENTRON Controls, LLC