IS DC OR MFDC BETTER OR PREFERRED OVER AC IN SPOT WELDING?
The answer to this question depends upon the product being welding, the quality standard, power availability and equipment intended for the job. If this is to be a robot/automation operation MFDC may be the best choice. It will reduce the weld gun weight. If the plant has a power shortage again MFDC comes to the forefront. It is three phase which will balance the load and it will use less total power than AC.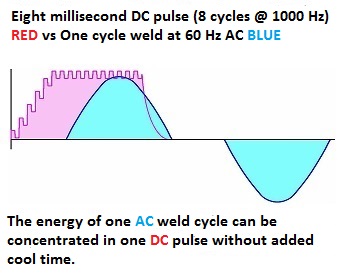 If strict quality standards are necessary MFDC in (ms) may also lend itself to more fine control.
DC has not been mentioned since standard DC has mostly been replaced by MFDC due to DC's costs and physical size.
This does not rule out AC. It is tried and true. AC is more robust with longer life and is more familiar to many facilities. If you use press welders, power is not an issue and work with normal quality standards AC is a good choice. If the facility already has many other AC units for backup AC would be a very good choice.
For a complete comparison and discussion of the two topics read another article in this blog:
"COMPARE MFDC VS AC IN RESISTANCE WELDING"
Every operation is different but the principles are the same. When comparing the two processes one could expect to find the following
ADVANTAGES AND DISADVANTAGES: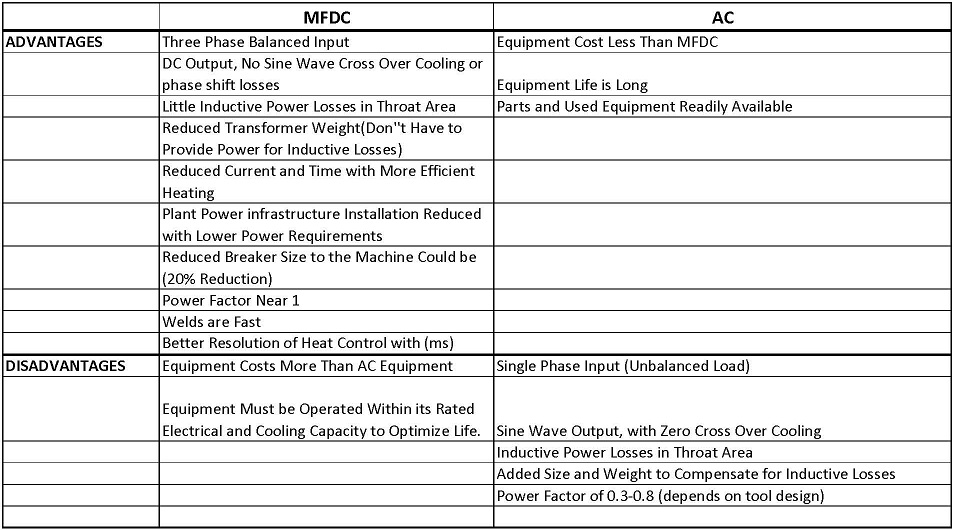 ADVANTAGES & DISADVANTAGES OF MFDC AND AC
Many applications continue to use and specify AC equipment. MFDC has become the preferred product being used for automated equipment.
Reference: RWMA – Resistance Welding Manual 4th Edition
AWS – Welding Journal, Q & A July 2019