All spot welding electrodes wear in the same manner. They mushroom - The nose diameter grows larger with use.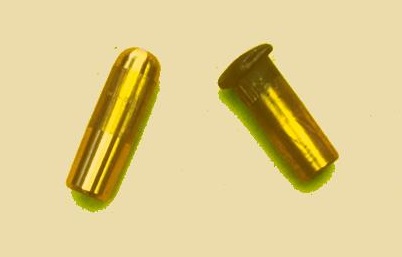 SEVERE MUSHROOMED ELECTRODE
The mushrooming does not change the schedule or settings of the welder but it does change the path the current takes into the part. The contact surface area grows as the electrode face grows. Therefor the same current is spread over a larger area and the weld zone is not as concentrated and cools down. The current density has reduced. With time the weld strength reduces and will fail to meet quality standards unless corrective measures are taken. The chart below demonstrates the change in electrode face versus current requirements.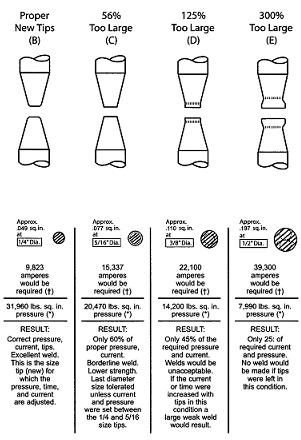 There are two methods to correct for this wear. One is to use the control to make regular increases in the current to match the face increase in size. The amount and frequency of these changes is developed by trial and error. If is usually a couple of amps each weld or several amps every 50 or 100 welds.
The other method is to dress (remachine) the electrode face back to the original diameter before it is too large. Then continue to weld. This can be done on the machine with automatic or hand dressers or remove and replace the worn electrode and reface on a lathe to return later to the weld line.
For additional information read Articles:
HOW DO I DETERMINE A TIP DRESSING FREQUENCY OR PROGRAM FOR A SPOT WELDING ELECDTRODE?
ON THIS SITE SEARCH FOR "DRESS"
Reference: RWMA – Resistance Welding Manual, 4th Edition