There are two types of drives for seam weld wheels. One is driven by the central hub, direct drive. The other is driven by knurled wheels riding on the perimeter of the seam welding wheels, indirect drive. There are pros and cons for both systems.
Another article in this blog discusses the differences:
HOW ARE SEAM WELD WHEELS DRIVEN?
Here we will address direct driven seam weld wheels. The question is should one drive
• Both wheels
• One wheel
• or maybe none
Let's address the issue of NONE first. There many seam welding machines where the part is driven into the wheels. In this case the wheels merely provide pressure/force and current as the part passes between the rolling set of wheels. The wheels do not require any drive mechanism. They may have a knurl wheel riding on the periphery for dressing.
BOTH WHEELS DRIVEN
This might be the "gold" standard for a seam welder. It greatly reduces the risk of part or wheel skidding or slipping. This translates into increased weld quality. As the wheel wears the wheel speed will have to be increased to compensate in order to maintain surface speed and weld spacing. This must be considered and addressed in the process plan.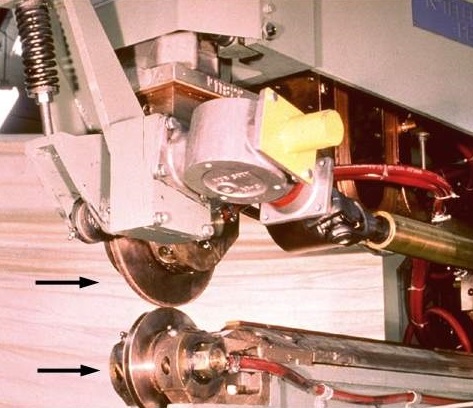 DIRECT DRIVE BARREL SEAM WELDER
Knurl Drive of both wheels on galvanized eliminates the wheel size problem and also solves the galvanized pickup at the same time. This also maintains a constant wheel face geometry. The negative is increased wheel wear.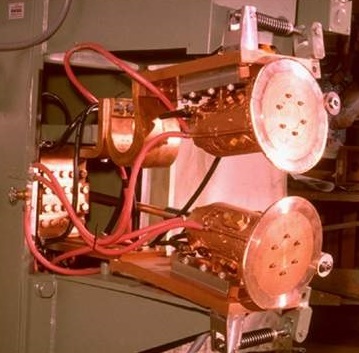 KNURL DRIVEN SEAM WELD WHEELS
ONE WHEEL DRIVEN
The part is being moved by one wheel. There is a higher risk of skipping or slipping. Will work well as long as the part being pulled or moved through the throat is not excessively large or heavy. The wheel speed must be adjusted to maintain surface speed and weld spacing as the wheel wears.
Part specifications size and geometry will probably dictate which drive system is best for the application.
Reference: RWMA – Resistance Welding Manual Section 4