On some products it is desired to use two different sized weld wheels. They likely will be the same thickness and face contour. Due to the diameter difference the larger diameter wheel will have more material in contact
with the part surface than the smaller wheel. This reduces the current density on the large wheel surface and the heat generated there in comparison with the small wheel's surface.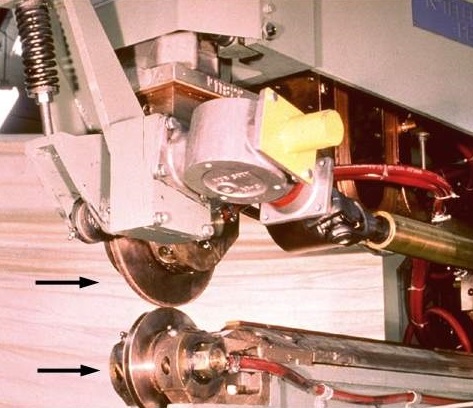 SEAM WELDER WITH TWO DIFFERENT WHEELS
---
The amount of this differential will depend upon the material being welded, wheel sizes and weld schedules used.
Additional discussion of this subject can be found in another article in this blog:
WHEN SEAM WELDING WITH ONE LARGE AND ONE SMALL DIAMETER WHEEL CAN THE WELD NUGGET FORM TOWARD ONE SIDE OR THE OTHER?
Reference: RWMA – Resistance Welding Manual Section 4