A seam welder has the same components as any other resistance welding machine. These components (transformer, conductors, control and electrodes) each require independent water cooling. Flow to these components should be as specified by the manufacturer. Normally the rates are 1-1.5 gallons/minute. The duty cycle of a seam welder runs higher than most other resistance welding applications making cooling imperative.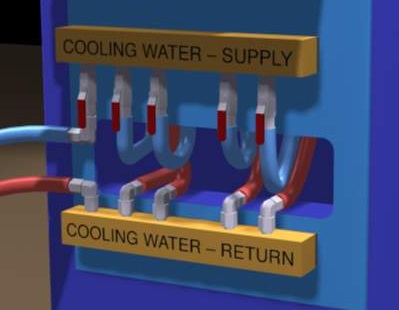 COOLING WATER MANIFOLD
In addition to the normal internal component water cooling, water is frequently applied in a stream (flood cooling) directly at the weld location. This externally cools the seam welding wheels and part being welded. This flow should be at 1–1.5 gallons/minute.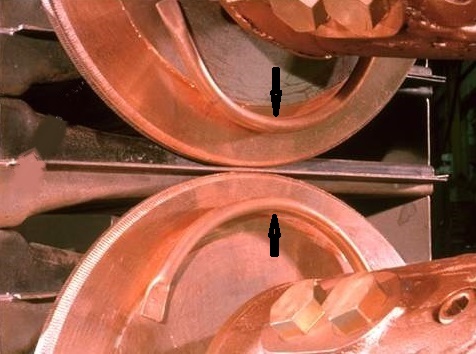 ARROWS INDICATES EXTERNAL FLOOD COOLING WATER TUBES
FOR ADDITIONAL INFORMATION REFER TO OTHER ARTICLES IN THIS BLOG:
"WHAT IS THE PROPER AMOUNT OF WATER COOLING FOR SEAM WELDING?"
"IS THE WATER USED FOR SEAM WELDING HARMFUL AFTER BEING USED FOR COOLING?"
References: RWMA- RWMA Resistance Welding Manual 4th Edition
AWS- AWS Standard J1.2 Guide to the Installation and Maintenance of Resistance Welding Machines