Projection nut welding is an important process within the resistance welding community. Many different segments of industry use this process in the fabrication of their products. Automotive, appliance and aircraft are examples of a few.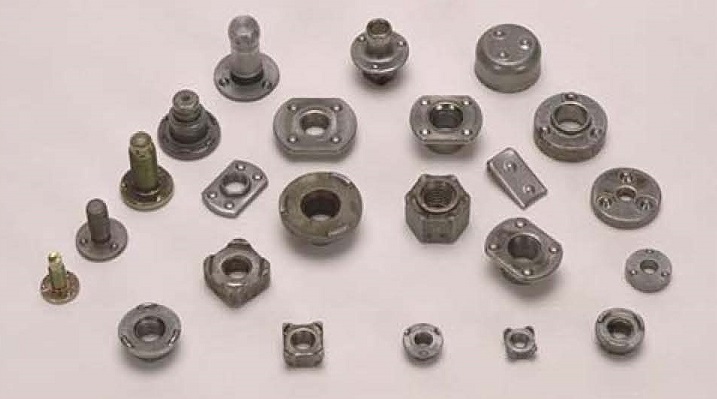 ASSORTED WELD NUTS
Ironically, with millions of nuts being projection welded there is very little data published on the process. In another article in this blog:
"WHAT ARE THE QUALITY STANDARDS FOR NUT PROJECTION WELDING?"
The lack of data was addressed. Two published articles were referenced:
AWS WELDING JOURNAL: RWMA Q & A JANUARY & MARCH 2011 – "QUALITY OF FORGED PROJECTION WELD NUTS"
The author of these articles has offered the following insight and test data for push-off testing:
The evaluation of a coined/forged projection nut by means of a destructive push-off test is a viable means of determining the integrity of the weld. With the aforementioned in mind, a few beneficial items to keep in mind while performing this type of test would include:
How consistent and repeatable is the push-off test
• Rate of force being applied
• Normality of parts in fixture
• Ability of test apparatus to withstand the 'shock' of a potential instantaneous unloading when the weld nut separates from the base material
How consistent and repeatable is the welding process
• Part presentation to welder(s)
• Weld projection geometry consistency
The following test data demonstrates the potential variability with the push-off test and the nut weld process. The nut welds were considered to be acceptable. The four nut weld tests were not run under production optimized conditions. As they say, there is always room for improvement.

As shown, variation exists on what are considered good product. This variation exists due to the elements noted above. The most notable are the weld nut projections, nut placement and the robustness and repeatability of the testing process.
As exhibited by the data, push-off tests can be used to evaluate nut welds. The amount of variation will depend upon the control of the variables on the input side. The important result is to meet a minimum value.
References: References: AWS Welding Journal: January & March 2011
Q & A "Quality of Forged Projection Weld Nuts" by DONALD F. MAATZ JR.
AWS Standard C1.1 Recommended Practices for Resistance Welding
Technical Input by - DONALD F. MAATZ Jr.