Material at 0.250" (6.4 mm) is generally beyond the limits for resistance spot welding. This question did not define the shape of this bar (round or square). The possibility of using a resistance welding process is viable on this bar with either shape if projection welding is used.
If the bar is round, the bar by its shape will make point contact with the plate. The force and heat will be concentrated to a point and a weld can be made. Use a contoured electrode 90 deg to rod on top and a flat nose electrode on the plate side. Projections could be added to the plate similar to the sketch # 2, below.

If the bar is rectangular, the projection weld must originate from the plate. The projection must be stamped into the plate. The design may need to be an elongated shape or several depending upon need and space. A variety of projection shapes are shown below: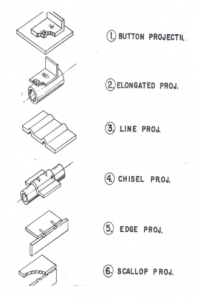 PROJECTION TYPES
Once again, use flat electrodes on both sides top and bottom.
In both scenarios (round or rectangular) projection welding is a solution to attach ¼" (6.4 mm) bar to 16 gauge plate.
SEE ARTICLE THIS BLOG: HOW DO YOU DEVELOP A PROJECTION WELD SCHEDULE?
Reference: AWS C1.1 Recommended Practices for Resistance Welding
AWS J1.3 Specification for Materials Used In Resistance Welding Electrodes and Tooling