This could be rephrased to be - What are the parameters of a projection welding process? In this case what parameters should be checked besides pressure, current and time when projection welding (PCT)? Before we move on, these three cannot be passed over. If the control or force application is not functioning properly the projection weld will not meet specification. The appropriate components must be part of the regular preventive maintenance list and checked daily, weekly, monthly as prescribed. A guide to machine and equipment maintenance can be found in:
AWS J1.2 GUIDE TO INSTALLATION AND MAINTENANCE OF RESISTANCE WELDIGN MACHINES
The next areas to address is the condition of:
FORCE APPLICATION AND FOLLOW-UP
ALIGNMENT
PROJECTION SHAPE, SIZE & CONSISTENCY
ELECTRODE MATERIAL AND CONFIGURATION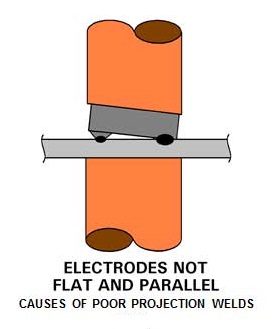 THESE ITEMS ARE ADDRESSED FULLY IN ANOTHER ARTICLE IN THIS WEBSITE:
"HOW DO YOU DEVELOP A PROJECTION WELDING PROCESS?"
This article explains the importance of fast force follow up, good alignment, properly shaped projections and electrode selection. It also addressed initial process development. This article has the explanation of the Do's and Don'ts for projection welding.
Reference: AWS C1.1 Recommended Practices for Resistance Welding
AWS J1.3 Specification for Materials Used In Resistance Welding Electrodes and Tooling
AWS J1.2 Guide to Installation and Maintenance of Resistance Welding Machines