Projection weld schedule parameters are readily available in the published weld schedules referenced below. In general they have relatively short weld times and perform very well as documented. There are cases in which the circumstances in manufacturing are not ideal and variations from the standard are necessary. When this is present a change in the weld schedule may help.

Some of the problems encountered in the real world are misalignment, uneven height projections, uneven size projections, missing projections and poor follow up. Some but not all of these may be corrected with weld schedule changes. Upslope or a slow rising current over a few cycles might give the part time to seat itself and put the badly aligned uneven projections in contact so they will weld rather than become expulsion. You can't replace a missing projection but let's seat the other projections before we hit them with full power. Remember that fast-follow-up is always necessary. Be sure you equipment is capable of fast-follow-up.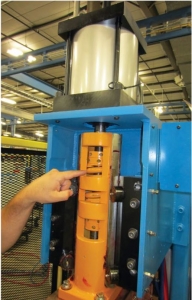 FAST-FOLLOW-UP SPRING IN RAM FAST-FOLLOW-UP HOLDER
Additional information can be found in articles in this blog:
What are the Do's and Don'ts for projection welding?
Projection welding schedules are available in the Resistance Welding Manual published by RWMA/AWS and AWS Standard C1.1 Recommended Practices for Resistance Welding published by AWS.
PHOTOS Courtesy of T.J. Snow Co., Tuffaloy Products Inc.