Pulses are used in resistance welding to help grow the nugget size without overheating the part. It is difficult to grow a nugget as large as the electrode face diameter or larger without being inventive with the weld schedule. Pulses or impulses are one means of obtaining nugget growth without overheating the part. There is always one or two off/cool cycles between each pulse.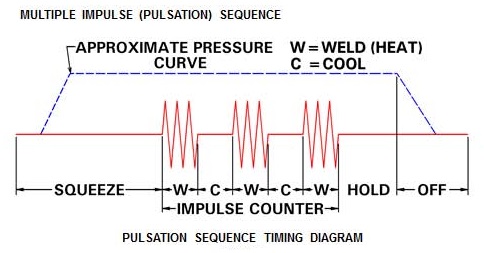 Additional information on pulsation can be found in another article in this blog:
WHEN USING PULSATION IS THE SECOND PULSE SET HIGHER OR LOWER THAT THE FIRST PULSE?
Reference: RWMA - Resistance Welding Manual 4th Edition
WHEN USING PULSATION IS THE SECOND PULSE SET HIGHER OR LOWER THAT THE FIRST PULSE?Reference: RWMA - Resistance Welding Manual 4th Edition