Offset holders are very commonly used in industry on press welders to reach over a lip or into a box. This is where there is no vertical room for a direct acting barrel holder.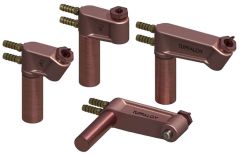 OFFSET HOLDERS
Offset holders are normally castings. The standard material is Class 2. The heavy duty premium versions are Class 3.
Common shank diameters range from7/8" – 1¼".
Offsets are 2 and 4".
They come in ejector and non-ejector styles.
Tapers are for standard electrodes #4 & 5 RWMA.
Cooling water inlets and outlets are provided and marked. The water tubes are sliding tubes for adjustment into the electrode.
Replacement water tubes are available.