Voltage and current drops can be caused from two areas. One is the plant environment. The other is the wire mesh welder. If the plant does not have sufficient power or utility buss feed to the wire mesh welder problems can arise. As the plant turns on equipment during the day the plant voltage can drop and the input voltage to the welder can suffer. Secondary voltage and current will drop.
Along with this, pneumatic cylinders can be affected in the same manner. If sufficient air plumbing is not supplied, air pressure can drop during the day and the resistance can change if force is not maintained.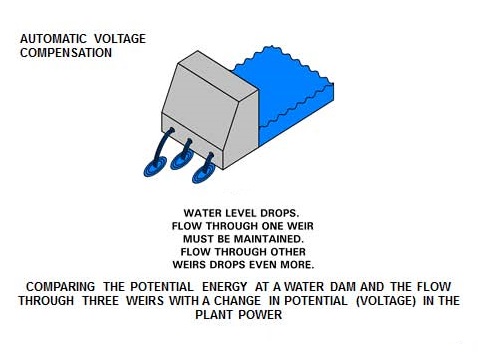 Internal changes on the welder which can affect the weld conditions are temperature, and resistances.
If the cooling water is not effectively cooling some component, it will heat up and become more resistant.
If a joint connection heats up, it also may become loose and become more resistant.
The conductors will be more resistant if hotter. This means less current due to higher resistance.
A frayed cable or broken shunt will have a higher resistance and not conduct properly.
An overheated transformer does not perform as well.
Proper cooling of all components is imperative.
Articles in this blog which address related issues are:
"WHY DO WELD NUGGETS VARY DURING A SHIFT?"
"WHAT IS CONSTANT CURRENT?"
"THERE IS WELD VARIATION ON OUR 22 SINGLE PHASE AC RESISTANCE WELDERS. COULD THIS BE CAUSED BY POWER VARIATION?"
"WHY DO THE FIRST PARTS AFTER A BREAK HAVE UNDERSIZE WELD NUGGETS?"
"WHY DO WELD NUGGETS VARY DURING A SHIFT?"
To troubleshoot this situation:
Evaluate the output currents and forces.
Check cooling for hot spots.
Are water lines plugged up?
Is the water tower functioning properly? Add cooling or refrigeration if needed.
Check conductors for clean connections and frayed or broken cable and shunts. Clean, silver plate, tighten or replace as needed.
Reference: RWMA Resistance Welding Manual 4th Edition