The best document for troubleshooting a seam welder would be:

AWS J1.2:2016 "GUIDE TO INSTALLATION AND MAINTENANCE of RESISTANCE WELDING MACHINES"
This document explains the importance of the various aspects of a proper installation. These installation guides give you many points to troubleshoot on an operating machine.
It also lists many undesirable weld results and what may be causing them.
It has a trouble shooting section. What to look for and where to go to correct the problem.
A seam welder is a resistance welder with circular rotating electrodes and flood cooling. All other factors are the same. The weld head is different in that it acts as a bearing and conductor. Wear of the bearings and sliding contacts is common over time. The conductive grease in the weld head normally needs to be replaced at the same time the weld head is overhauled.
Maintenance of the weld head should be left to seam welder manufacturers.
See: Article "CAN A WORN SEAM WELDING SHAFT BE REWORKED?"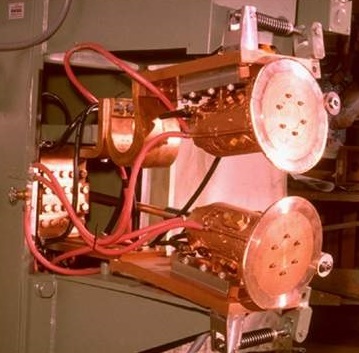 Inclined Seam Weld Heads with Knurl Drive
Reference: AWS J1.2:2016 – Guide to Installation and Maintenance of Resistance Welding Machines