In projection, resistance brazing or spot welding, residue from the process eventually builds up on the face of the electrode.
CLEANING COPPER SPOT WELDING ELECTRODES:
In the case of spot welding mushrooming is also present. Spot welding electrodes are normally copper alloys making a machining process on or off the machine the most practical method of mushroom and residue removal.
CLEANING COPPER, COPPER TUNGSTEN (RWMA Class 11), MOLYBDENUM (RWMA CLASS 14) AND PURE TUNGSTEN (RWMA CLASS 13) PROJECTION & RESISTANCE BRAZING ELECTODES:
In projection welding and resistance brazing there can be some mechanical wear of the electrode face but frequently there is a buildup of fluze or foreign product generated from the weld, weld flash or???. At some point this buildup may interfere with part loading or locating. Cleaning becomes necessary. Depending upon the electrode material a simple machining process may be called for if it is a copper alloy.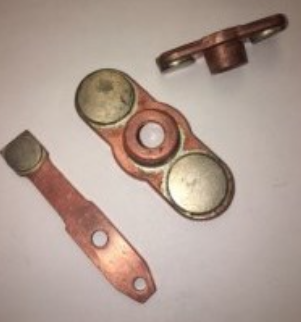 RESISTANCE BRAZED ELECTRICAL CONTACTS
If the electrode is a refractory material copper tungsten, molybdenum or tungsten a more involved process must be employed. External residue can be removed with a file without correcting any surfaces of the electrode material.
To resurface copper tungsten or molybdenum a carbide tool is necessary to properly machine the surface of these electrodes.
In the case of pure tungsten, it must be surface ground. Cutting tools will not work with tungsten.
Both Moly and Tungsten electrodes can continue to function with surface cracks as long as they are not damaging the appearance of the part being produced.
References: RWMA – Resistance Welding Manual 4th Edition