A question just came in asking what is duty cycle. This has been answered by a previous article reproduced below:
WHAT IS TRANSFORMER % DUTY CYCLE?
Duty cycle is a measurement of the % of the time that the transformer is conducting current during one minute. This value is used to insure that the electrical components are not operating above their thermal capability. Resistance welding transformers are rated at a 50% duty cycle. Each application may operate at different duty cycle up to and including 100% continuous.
THE FORMULA TO CALCULATE DUTY CYCLE FOR AC is: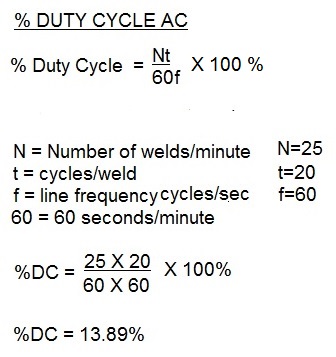 THE FORMULA TO CALCULATE DUTY CYCLE FOR MFDC is: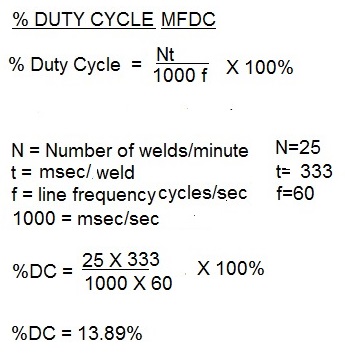 Other articles in this blog on this subject are:
"HOW DO YOU CALCULATE DUTY CYCLE?"
"WHY IS RESISTANCE WELDING EQUIPMENT DUTY CYCLE RATED AT 50%?"
Reference: RWMA Resistance Welding Manual 4th Edition, Chapter 19