Transgun AC transformers are designed to be relatively light and compact with good power to fit on a robot arm for welding applications. These transformers vary in sizes from 35 KVA to 136 kva units (rated at 50% duty cycle). They are lightweight and designed for close couple mounting to welding guns. Their light weight makes them ideal for robotic applications.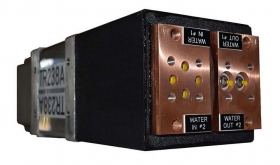 TRANSGUN TRANSFORMER
Transgun transformers are water cooled as shown in the photo. They are available in many primary voltages, 240, 480 & 575 @ 60 Hz. Various options and special features can be ordered including secondary pads, secondary pick up coils, over-temperature thermoswitches, full encapsulation and shunt adapters.
Reference: RWMA Resistance Welding Manual- 4th Edition
Roman Manufacturing Inc.