Yes, it is a series weld. The weld guns are all arranged on one side of the part with the lower side being a fixed platen shunt die. Current flows through one wire joint into the lower shunt die to the next wire joint through that joint and back to the next gun to the transformer. This completes the circuit and the projection weld is complete. A series of many welds happen sequentially and the machine indexes to the next group.
This type of welding has a shunting current component. In the lower shunting die it is necessary. If not designed properly shunting currents in the top side can cause extra power drain and cause long term wear and tear on the electrical components of the machine.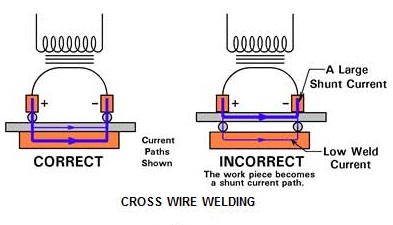 Look at your tooling arrangement and insure that you lay out your parts as shown on the left to eliminate shunting between the upper electrodes exhibited on the right sketch. Both can work. Poor set up leads to a potential need for larger transformer and cables for the increase power demands. Cables my fail sooner and maintenance may become more frequent with the incorrect set up.
Related Article: "IS THERE A MINIMUM SPCING BETWEEN SPOT WELDS?"
"DO SERIES WELDS HAVE SHUNTING CURRENTS"
Reference: RWMA Manual- Fourth Edition, 19