The answer to this question allows sizing conductors for the machine and the primary buss feed to the machine and transformer. The actual amperage out of an AC transformer depends upon the secondary itself. That will not be addressed here. Here we will address input for a given amperage output.
The first is called KVA Demand. The second consideration is Primary Effective Continuous Thermal Current (ECTC).
These topics are covered fully in two other articles:
HOW DO YOU SIZE THE PRIMARY CONDUCTORS FOR AN AC RESISTANCE WELDING TRANSFORMER?
---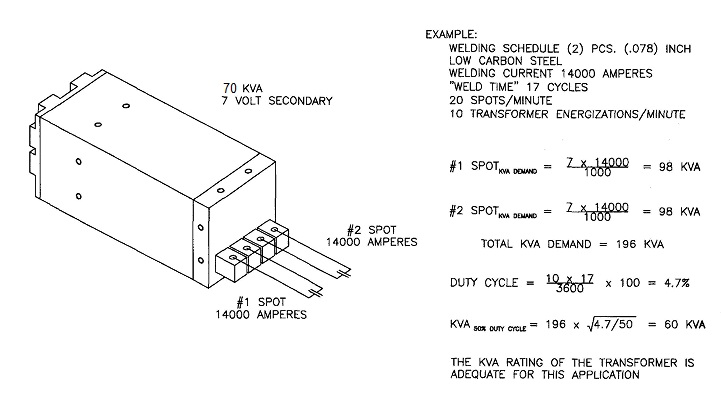 The instantaneous KVA Demand is 196 KVA
The KVA Demand@ 50% Duty Cycle is 60 KVA
The transform is rated at 70 KVA and is adequate for this job.
Apply the above calculations to your situation with 64 KVA and calculate the primary conductor size for the finalized information.
Reference: RWMA Resistance Welding Manual 4th Edition