Water for the electrode should always come directly from the water manifold and not be plumbed to use water from another weld machine component. Cooling water is the most important item to insure electrode life. Therefore the amount of water and its temperature are very critical.
You can read other articles on:
HOW MUCH WATER FLOW SHOULD I HAVE?
WHAT TEMPERATURE SHOULD THE WATER BE?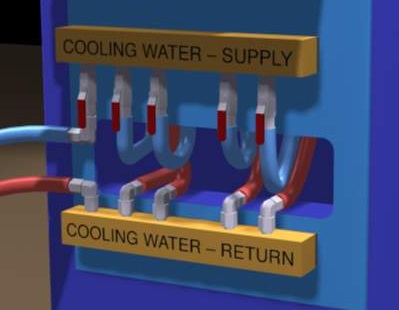 Water Manifold exhibiting separate zones for machine components
Another feature that cannot be overlooked is the plumbing of the water lines. Water for the electrodes should always come directly from the water intake manifold for each electrode. Never route previously heated water from a transformer, control or other machine component to the electrode. The water to the electrode should be directed to the inside face of the electrode as close as possible with a flow of 1.5 gal/min and be as cold as possible. If you compromise on temperature or flow welds can be made but not nearly as many before maintenance will be required.
Reference - RWMA Resistance Welding Manual 4th Edition